Welcome to Password Protect WordPress (PPWP) Pro, the #1 plugin to password protect WordPress websites.
First of all, please make sure you've installed and activated the PPWP Pro license successfully on your website.
Once you've activated the plugin, now it's time to start protecting your valuable content. This tutorial walks you through the basic settings and helps you get the most out of our PPWP Pro plugin. Password protecting your WordPress site has never been easier and this effective.
Getting started with PPWP Pro now.
Essential Settings
Under your WordPress admin, click on "Password Protect WordPress" to access our plugin's settings page.
Set whitelist roles: who can access all protected content without having to enter passwords, i.e. post's author, admins, or logged-in users. Default: No one
Set cookies expiration time: set a specific period of time (minutes, hours, days) after which users have to re-enter the password to access your protected content. Default: 7 days
Set block search indexing: prevent your site from being indexed by search engines. Default: enabled
Check out all Setting options of Password Protect WordPress Pro.
Protect Your Content
When you've done with the basic settings for Password Protect WordPress (PPWP) Pro, now it's time to password protect your content.
Under your WordPress Dashboard, find the post or page that you want to protect
Click on "Password Protect" link under Content Protection column
Create a random password or set your own password to protect the page and post
See it in action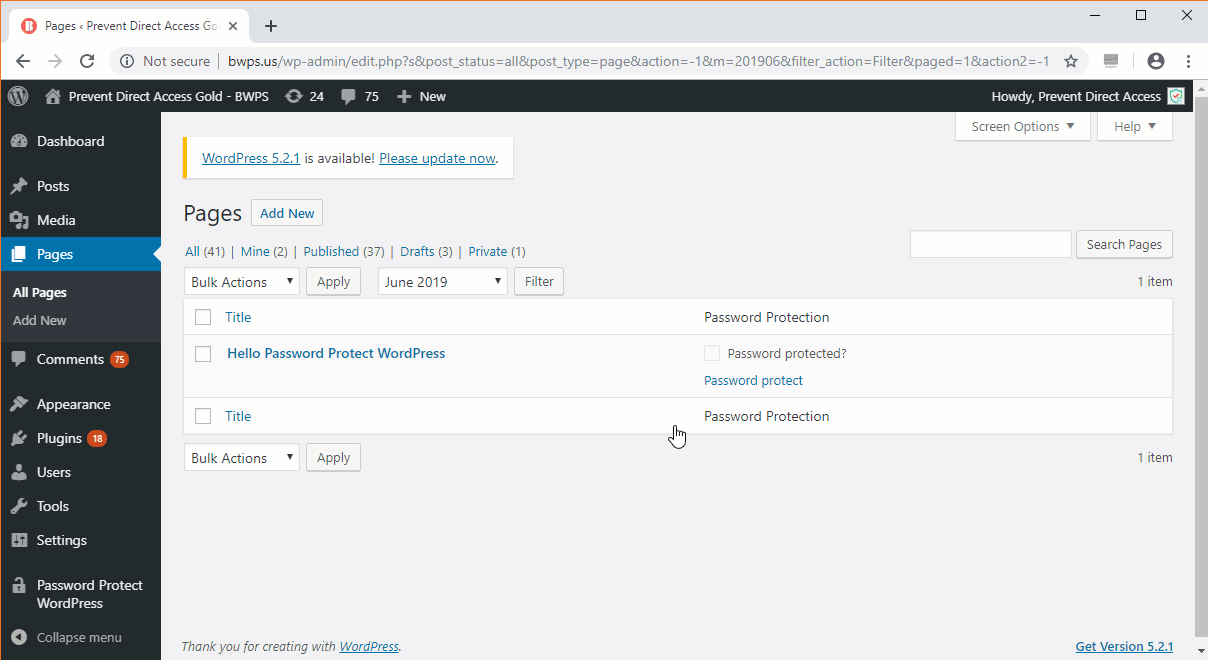 Additional Resources
These tutorials and blog posts below should come in handy if you want to explore our PPWP Pro features in more detail.
Still need assistance? Please let us know if your questions aren't addressed in our FAQ & Documentation yet.