Welcome to Password Protect WordPress (PPWP) Pro, the #1 plugin to password protect WordPress websites.
First of all, please make sure you've installed and activated the PPWP Pro license successfully on your website.
Once you've activated the plugin, it's time to start protecting your valuable content. This tutorial walks you through the basic settings and helps you get the most out of our PPWP Pro plugin. Password protecting your WordPress site has never been easier and this effective.
Getting started with PPWP Pro now.
Password Protect WordPress Content
Firstly, you need to determine which type of content you want to protect. Our plugin provides 3 different types of protection:
Individual page/post protection
To protect the whole single page or post, simply go to Pages or Posts menu and hover over its title. Then you will see the "Protect" button which allows you to protect the content immediately.
Alternatively, you can password protect content while editing using the switch button in the editor page. Also, PPWP Pro allows you to create and manage all passwords at the same place.
See it in action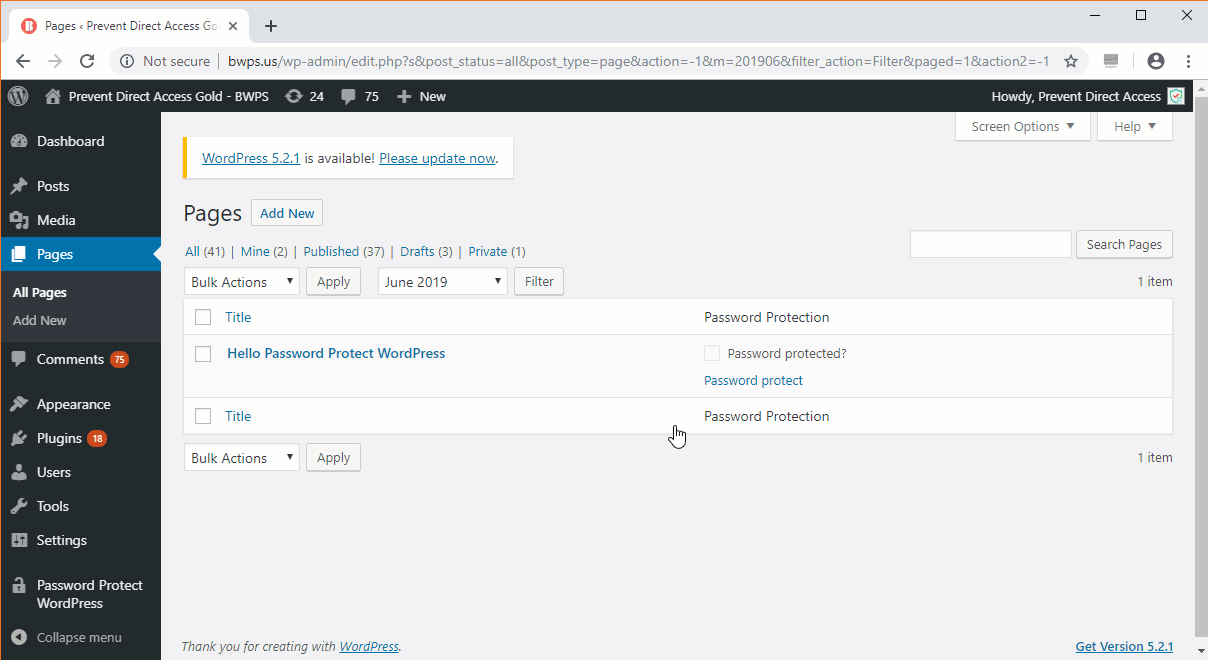 Essential Settings
Under your WordPress admin, click on "Password Protect WordPress" to access our plugin's settings page.
Post Type Protection
By default, PPWP Pro offers Pages and Posts protection only. Therefore, if you don't see the option to protect your content, it's likely you're trying to protect a custom post type.
If so, you need to add that specific post type in the plugin's settings first so that it can be protected with our PPWP Pro.
Default: Pages & Posts.

Cookie Expiration Time
Our plugin uses cookies to keep user access within a preset time period after entering passwords. In other words, they can access the content directly until cookies expire. Default: 7 days.
Whitelisted Roles
By default, we allow admin users to access the content directly without entering a password. So you might not see the password form after upgrading to the Pro version. Default: Admin users.
Check out all Setting options of Password Protect WordPress Pro.
Additional Resources
These tutorials and blog posts below should come in handy if you want to explore our PPWP Pro features in more detail.
Still need assistance? Please let us know if your questions aren't addressed in our FAQ & Documentation yet.