Password Protect WordPress (PPWP) Lite provides an all-in-one solution to password protect your website at no cost. Our plugin will give you the ability to protect the whole or each part of your site with a single password. Users won't need to log into their accounts in order to access the protected content anymore.
PPWP Pro makes it even easier and faster to password protect your private content. It offers many more advanced features giving you full control over your protection and protected objects. However, when you're using the PPWP Free and want to upgrade to Pro license, there are some differences between these 2 versions required you keep an eye on:
Password Protection Status
Similar to the built-in WordPress password protection feature,  PPWP Free requires you to create at least one password to protect your page or post.
However, when it comes to PPWP Pro, everything is simpler. All thing you need to do is to turn the switch button ON. A random password will be generated automatically.
You will also see the protection status of each content right under Pages or Posts screen, which doesn't show in the Free version.
If you want to unprotect a page or post, the Free version requires you to remove all created passwords, including both global and role passwords. With the same purpose, you just need to turn off the switch button to unprotect content with Pro version.
Sitewide Password Protection
Both our Free and Pro version support to password protect your entire site. However, they're using different methods.
The Free version allows you to create one password only and this password will be hashed. That means you can't see the created password despite the fact that you're an administrator.
PPWP Pro, on the other hand, allows you to create multiple passwords at once and they won't be hashed due to tracking purposes. You will also be able to exclude some certain pages from sitewide protection as well as redirect your users to a specific URL after they enter the right password.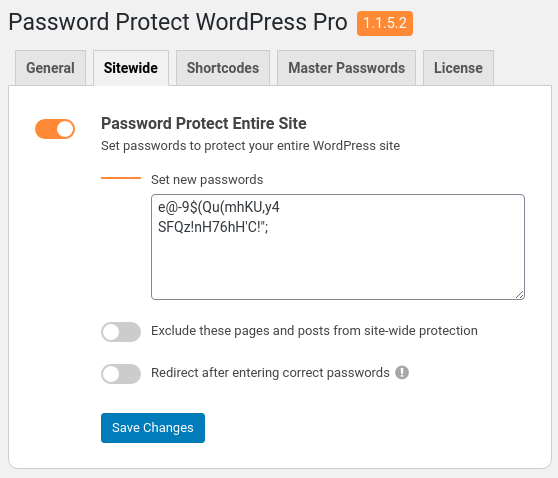 Track Password Statistics
PPWP Pro provides an easy-to-use interface allowing users to track password usage. By integrating with PDA Statistics extension, you can track not only password usage for individual pages but also sitewide password protection. You will know who has used your password and when they access your protected content, including username, IP address, and browser info.