Your login page is the very first touch of users when reaching your WordPress site. It's likely an entrance they have to pass through before entering your house. You might think it's not really a big deal to have such a simple login page, but have you ever wondered if it could affect your conversion rate one time?
There's no surprise that visitors give up on your site because of a commonplace entry page. Thus, providing an appealing page will attract people better.
So forget about your primary login page from now on 'cause it's time to dress things up.
No rush to worry if you're not a web designer. We'll show you what you could carry out. For your sake, we've included five WordPress login plugins that would help style your login page effortlessly. Some of them even don't require any coding skills.
Not to keep you waiting any longer, let's go into the details.
Why Using WordPress Login Plugins
By default, a WordPress login page is something conventional and simple like this.
When setting up, every site's first page looks the same. That's why some customizations should come in to make your site more vivid.
What's more? A stand-out login page brings out a professional look to your brand, which is a strength when you're running a membership site. People can recognize your brand through the login page if it's tailored to your own theme and tastes. Easily guess that a better user experience is achievable.
Among a multitude of WordPress plugins, we've hand-picked the top five login plugins for your choice.
Top 5 WordPress Login Plugins
The plugins bring amazing features to have your back in driving a more happy login experience.
Password Protect WordPress (PPWP)
Indeed, PPWP is a security WordPress plugin that allows you to password-protect your valuable content of single pages or content sections and even an entire site.
How can PPWP, developed for security purposes, help you with login page customization?
Assume that you've protected your whole site with a password. By default, the sitewide login form is plain with the PPWP logo and a field to enter the password.
Now you want to change the logo, set a background image, add more labels to the login form, and many more. They are not a challenge to PPWP at all.
There are 4 pre-designed themes available for you to enrich the login form layout.
Although this tool is a password security plugin, it allows you to customize the password form, including the error message, button, and description below your form.
To sum up, PPWP enables you to customize your login form according to your site vibes with the following features:
Choose pre-designed themes
Customize logo image & headline
Style background
Customize password form
Customize the description below the form
Apply different button styles
Personalize error message
Use custom code
Add custom CSS & JS assets
While some features of sitewide login form customization are only available in the Pro version, take a look at which a PPWP Lite could supply for single protection and partial content. Just with the free version, you can alter your single password form or partial content protection the form beautifully.
If you want to have a gorgeous login form and ensure security purposes at the same time, PPWP is a must-have.
Pricing: Free for single protection and partial content protection password form. There're some limited features available only for the sitewide protection login form.
Contact Form 7
Contact Form 7 might be no longer unfamiliar to WordPress users. It's one of the best form-generating WordPress plugins, which yields over 5 million active installations worldwide.
This plugin comes up with easy-to-use features allowing you to create a registration or login form. It's good to say that you're able to customize fields such as description or text on the contact or login form with this tool. Plus, you're capable of modifying email messages to registered users.
Pricing: Surprisingly, all plugin features are available in the Free version, so it doesn't cost you a penny to utilize Contact Form 7 to customize your registration or login form.
Apart from that, see what's more Contact Form 7 brings out to your site's enhancement. 
Colorlib Login Customizer
As its name indicates, Colorlib Login Customizer would let your login page bloom colorfully. You can change or adjust the logo image's dimension that fits form shapes. Rebranding the page matching your site's styling, with alike background or text color, is also worth mentioning.
With the help of Colorlib Login Customizer, an aesthetic impression will make your login page more artistic. This might motivate visitors to log in or register to your site when coming across your page.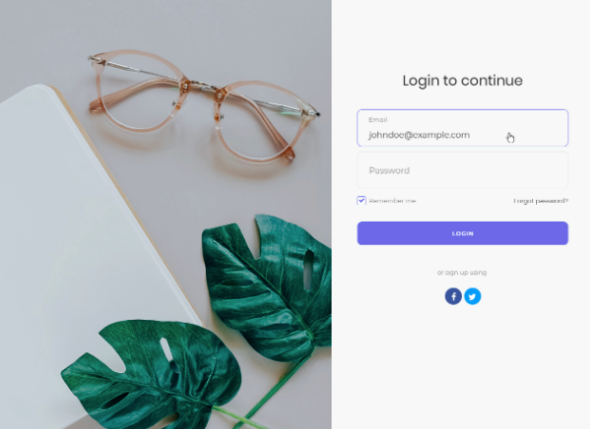 Pricing: If you'd like to customize the login page only, just go ahead with the Free version.
WPForms
Having said that, as the best WordPress form builder plugin, WPForms has never tightened its capability but always offers several add-ons to fulfill your needs. With the User Registration add-on, you can find it uncomplicated to customize form fields. You can opt for displaying the login form on the sidebar or footer so that users can bypass access from the admin area.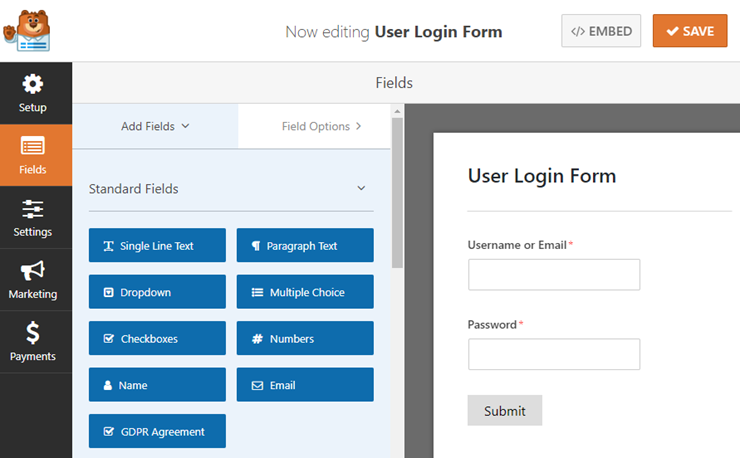 One more thing, WPForms has integrated with a bunch of email marketing services with over 100 templates. You can promote your site to users by attempting email visuals smoothly.
Pricing: You need to pay $159.60 annually to use the login form customization function of the User Registration add-on.
LoginPress
Last but not least, LoginPress is perfect for non-tech savvies since there's no coding skill required to redesign the login page. Thanks to dozens of distinctive templates coming hand in hand, you can personalize your login page with minimal effort. The highlight of LoginPress is its huge collection of more than 700 Google fonts that can match any site style.
Remarkably, this plugin even features welcome message customization for every user based on their role and situation.
Pricing: Free. In case you want to experience more pre-built templates, upgrade to the Pro version which costs $49 per year.
Which WordPress Login Plugin is A Perfect Match for You?
It's really up to one's tastes to have a perfect match in life, let alone numerous advantageous plugins for their precious websites. While the number of login plugins is increasing non-stop daily, it's like finding a needle in a haystack for the best plugins yourself.
Understanding your situation, we've listed five WordPress login plugins that can be beneficial to your business.
Password Protect WordPress (PPWP): take care of both visuals and security aspects.
Contact Form 7: custom description or text on the login form, modify email messages to users.
Colorlib Login Customizer: redesign a login page with logo, adjust dimension, or text and background color.
WPForms: display different buttons on the login form and have them embedded in sidebar or footer.
LoginPress: brand the login page with no coding skills required.
It's undeniable that a well-groomed login page can drive a better user experience and create a chic look for your site. We believe that these above login plugins can meet your need for customizing your login page. Give them a try and let us know which is your favorite in the comment section below.