It can be a time-consuming job to repeatedly add the same information to multiple posts, especially for content-heavy websites such as blogs, educational sites, business sites and eCommerce websites.. Fortunately, this is something that you can complete much faster with the help of custom fields in WordPress.
Custom fields are a sort of meta boxes where we insert our post related data. And to imply custom fields functionality on your site, you can use custom field plugins.
In this post, we will discuss seven best WordPress plugins to make any WordPress site highly customized.
So, let's get started.
What are WordPress Custom Fields Plugins?
As discussed earlier, custom fields allow you to add additional metadata to your posts, pages, and custom post types. They enhance the functionality of your site and make your site content highly organized in a way you desire it to be.
Custom fields also increase a user's efficiency in managing the content of the site. For example, with the help of the right custom field, you can easily update essential data on your website or make some post adjustments when needed.
Gratefully, there's a hassle-free way of creating custom field templates for your site. You can also add them to your pages, posts, custom post types, & virtually anywhere on your WordPress website. It's possible by installing appropriate custom fields plugin for WordPress. Another way to do this is by making full use of its features, tools, & functionalities.
8 Best Custom Field Plugins for WordPress Websites
We have gathered some of the top custom field plugins for WordPress websites offering the most outstanding features that can make any site as highly customized as possible. Better yet, constant updates are for these WordPress plugins as well.
So, WordPress users can be confident that developers are actively finding solutions to issues as they come up. Also, regular updates are made to provide better services for users who have installed the plugins on their sites.
JetEngine
Build dynamic website structure using JetEngine custom fields plugin. This plugin has more than 47 features for dynamic content, including custom post types creation, dynamic visibility, conditions, relationships, Rest API, Query Builder, Table and Charts builders, etc.
Features:
18 WordPress custom fields types.
With a repeater custom field, you can avoid the same fields and use repeatable fields during page, products, or user creation.
Add more information with meta box groups to post, custom post types, or taxonomies.
Categories content types using taxonomy feature.
Build dynamic tables and charts showing products, users, film lists, etc.
You can add wishlists, favorites, likes, or dislikes to your website using Query Builder.
Price:
JetEngine costs $43 per year for a single website. There are also Lifetime and All-inclusive plans available among Crocoblock subscriptions.
WooCommerce Custom Fields
With the help of WooCommerce Custom Fields plugin, you can allow your customers to select the date & time for their product delivery. You can also charge additional fees for add-ons & services selected during checkout if you want to. You can create unlimited product fields, mark fields as public or private, & display WooCommerce custom fields on the checkout page.
Features:
This plugin provides a price range filter to your e-store.
You can offer fields of popular services & add-ons, such as gift wrap, or extended warranty using up selling for more significant profits.
You can use WooCommerce Custom Field plugin to collect birth dates to surprise customers with a birthday account.
Also, you can provide shipment tracking information or the serial number of their purchased device & keep your customers informed.
Price:
The price of this plugin is $39, with 6-month support from RightPress.
Toolset
It's a perfect choice for advanced & beginner developers as this plugin makes it easy to add custom fields without any coding knowledge. You can also choose from more than 20 types of custom fields, including images, numbers, & videos.
The best part about using this Custom Field plugin is that you can add all the features a custom WordPress site needs with a single plugin including taxonomies, custom post types, a custom search & much more.
Features:
You can create custom post types & taxonomies without PHP coding.
Toolset plugin offers you repeatable field groups so you can create multiple sets of fields as many times as you want.
With this Custom Field plugin, you can have full control over how you want to customize your field groups.
Your site custom fields can be completely searchable in your search bar.
Price:
You can buy a toolset presentation custom field plugin for only $69 – if you're looking for custom fields.
But if you want to build an entire site, then Toolset Interactive helps you to make three custom WordPress sites for $149.
Filter Custom Fields and Taxonomies
Filter Custom Fields and Taxonomies stands among the best custom field WordPress plugins because this plugin uses Profi Search Form for every function it provides.
Almost all the functions in the Filter Custom Fields and Taxonomies plugin are performed with the help of this search form. This filter is quite helpful in applying search filters to the search.
By using Profi Search Form, your clients can perform a full-text search, use a range slider for selecting ages, prices, etc.
A Profi Search Form is a search and filter form. To use it on your site, you need to enter the shortcode. You can also use a widget for the search filter in your sidebars.
Features:
Filter Custom Fields and Taxonomies plugin is easily customizable from the admin area.
Your customers can perform a full-text search. So it means that the search engine probes all of the words in every document & tries to match the search criteria.
Also, this plugin comes with a range slider. Your customers can decide a particular price, age of the person, & a select box.
This fantastic plugin provides many filters such as filters by custom fields, post, taxonomies & each of them offers a different function.
Price:
This 4.5 star rated Custom Field plugin will cost you only $21.
Advanced Custom Field Pro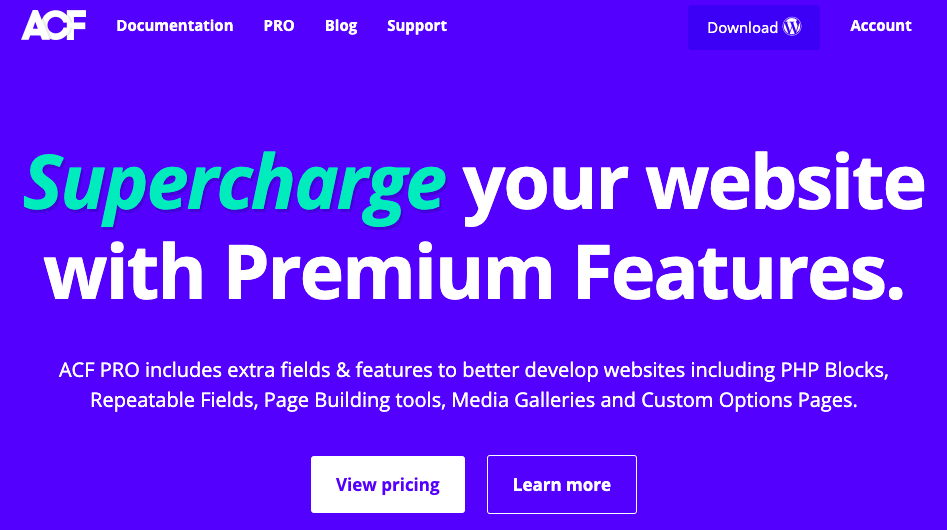 It's a new plugin which is being released alongside ACF version 5 & contains the functionality of 4 premium add-ons. ACF Pro is recommended for users who have used Advanced Custom Fields such as administrators, developers or other users with intermediate-level WordPress experience.
ACF Pro has got many additional features to develop better sites. It holds a lot like – gallery, repeater, and flexible content field with options to create pages.
Repeater field helps you in creating a set of sub-fields. These sub-fields can be reused again & again. The repeater field allows you to manage & create every customized data with ease.
Features:
This plugin provides a gallery field which provides an intuitive interface to control the collection of images.
ACF Pro plugin has a flexible content field which is a content layout manager. It helps define, edit, add, & reorder groups of layouts,.
With this plugin, you can show the custom profile field at 26 locations on your account page.
The clone field in this plugin allows you to select & display existing fields.
Price:
Advanced Custom Field Pro is available in two licenses: personal & developer license.
Developer License – support unlimited websites for $100.
Personal License – cost $25 with lifetime updates for one website.
Custom Fields & Custom Post Types Plugin
It's a WordPress plugin that works plainly & provides an intuitive interface. You can always upgrade to its premium version if you need extended features in regards to custom post types.
This plugin helps in customizing all the fields & posts. With this plugin, you can create repeat custom fields, taxonomies, post types, & build your front-end templates directly from the WP admin area.
Features:
You can find both custom taxonomy & creator in this plugin.
This plugin has an advanced Repeater Custom Fields Creator; by using it, you can also create a set of sub-fields.
It provides you with various options for creating pages.
By using Custom Fields & Custom Post Types plugin, you can also create the front-end of your site.
Price:
Custom Fields & Custom Post Types plugin is available in two pricing plans:
Pro Version for unlimited websites at $149.
Hobbyist Version with one accessible website.
Custom Field Suite
Another easy to learn & free WordPress plugin is the Custom Field Suite. It's a lightweight WordPress plugin that won't overload your site.
Custom Field Suite allows you to browse the "Field Groups" admin menu. This will help you a lot in adding functionality to your site. In this plugin, you will find many field types like loop, text, tab, hyperlink, & more.
Developers regularly update this plugin and resolve the issues that come up. This plugin is great for customizing your WordPress site pages.
Additionally, this plugin has up to 40,000+ active installation & 5-star rating by many of its users.
Features:
CFS creates a Field Group which contains one or more custom fields.
It comes with documentation, which makes it easy to use.
With the Placement Rules box, you can easily decide where the field group should appear.
Price:
It's an easy-to-use plugin and it's free of cost.
Custom Field Template
It's a simple WordPress Custom Fields plugin for WordPress which doesn't over complicate with a barrage of functionalities.
Once this plugin is installed, it'll help extend the default functionalities you already get with WordPress.  Using this amazing plugin is no different from the default procedure for creating custom fields.
Features:
It has the option to set any number of custom field templates.
You can use it to set an access user level value.
Support for shortcodes.
If you know about JavaScript or PHP, you can tweak around with many aspects of the plugin.
Price:
This plugin is free of cost.
Conclusion
As you feel more comfortable with WordPress, you can start branching out & using some of its more advanced features. Custom Fields are a great example – a hidden gem that significantly expands your control over WordPress content.
Now it's up to you what kind of custom field plugin you'll use for your WordPress website. All these custom fields are highly effective; you can use any of them for your WordPress website. Do let us know which plugin you liked the most and which one you find most appealing to handle your own project.