Nowadays, people use PDF as the most popular document type for almost every area including business, law, health, and education. However, there are a lot of risks relating to PDF files if they are not protected properly. Once other people have access to your important PDF files, they can view, copy, edit, comment on it, print, or even fill out it, and so on.
What happens if your PDF contains confidential information about your company, your tax, teaching and learning documents, or even personal profile? You should know how to ensure your PDF is secured correctly since attackers have numerous ways to unlock them.
3 Ways to Unlock PDF Files
There are three most popular methods to help with unlocking PDF files.
Using Google Drive
When someone wants to open the protected PDF files by using Google Drive, they need to have the file already there on their computer. Then, upload the PDF file to their google drive account. After that, open it via google chrome or other web browsers. As a result, they can use the Print function to save the file back to their computer as a new unlocked version.
Using Adobe Acrobat
In order to use Adobe Acrobat to crack the password protect PDF file, they have to use the Pro or paid version. Once opening the PDF file, on the Padlock option, there is a Security Setting allowing them to change the Security Method. That is where they can switch to the No Security option for the PDF files.
Using Password Removers
The same thing goes for using PDF password removers to open the secured PDF. Attackers have to use the paid version for more advanced functions. Still, once they're done with the installations before they can change any further settings, they need to have access to open the PDF files.
The only problem with all the above solutions is that attackers have to enter the correct password to open the PDF files first in order to break the protected file. In other words, they have to be the owner of the PDF file or the one who has the right password to open it.
In short, there's no such thing that can actually remove password protect PDF.
Things are getting easier after understanding how the above methods work. So you now will realize that password protection is the best way to protect your PDF files. With whatever ways, if the PDF is shielded with a password, attackers need to enter the correct one to be able to edit, comment, or print.
Now it's time for you to learn how to password protect your PDF files properly.
Protect PDF Files Using Password Protect WordPress
If you're running a WordPress website, it will be much easier to find an effective way to protect your PDF files. Password Protect WordPress comes as the most reputable plugins that help thousands of WordPress users with securing their files and content.
Firstly, upload the PDF files you want to protect on your WordPress site. You now wrap that PDF file with the PPWP shortcode. This is a familiar technique used to password protect partial content on your pages and posts. However, a lot of users find this one helpful to protect PDF files as well.
You have the option to add some of the descriptions above the shortcode for the introduction.
Put some description here (optional)
[ppwp passwords=123 headline= "Protected File" Description ="Enter password to unlock and download this file" cookie=1 download_limit=1] 
<a href="your-file-URL"> Your file name </a> 
[/ppwp]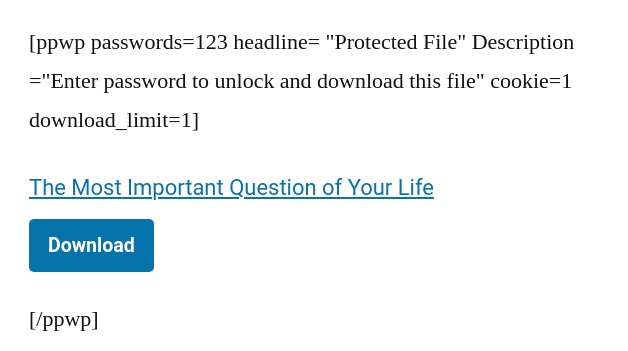 The [ppwp passwords=123] is where you provide your desired password. In this example, the correct password to open the PDF file is "123". Once you're all set, the preview of the password-protected PDF files on your pages will look like this.
Now if you type in "123" in the password form, the PDF file will show up immediately.
In case you plan to protect your PDF files even deeper, install Prevent Direct Access (PDA) Gold to secure your PDF files or any other media files in your Media Library.
Once having the PDA Gold set up on your website, you can upload PDF files to Media Library or Embedded in any posts and pages. While editing or uploading them, just simply click the checkbox "Protect this file," and your files are shielded.
Anyone who tries to access your protected files will be redirected to 404 error pages. You can eliminate the chance of files copying, editing, printing or even downloading with the combination of those two powerful plugins, Password Protect WordPress and PDA Gold.
Being Smart with Your Choices
Even though there are so many methods out there on the Internet, none of them can actually break the protection of password-protected PDF files. Using a simple way, or third-party tools cannot work if your PDF needs a password to open.
It would be better to have security tools to lock your PDF. WordPress users put their belief in Password Protect WordPress and Prevent Direct Access as the double shield for their files. And you should do the same.
Install Password Protect WordPress and Prevent Direct Access now to reduce the risk of unlocking protected PDF files without permission.