A sitemap consists of pages created specifically for search engine bots and crawlers. It aims at a better understanding of websites and indexing of pages. In other words, it's a structured list of pages for search engine bots to crawl and index on your website.
With a sitemap, you can promote your content to search engines and help them index the content faster. It is also a useful way to assist search engine bots understand the structure of your website, and know which pages to crawl, their relation, or even their last update.
What if we encounter a problem with sitemap, for example, the "your sitemap appears to be an HTML page" error?
It's time to learn about Google Search Console as well as how to use it.
What is Google Search Console?
Google Search Console is a free tool for site owners by Google. Using this tool, you can easily analyze your site's performance in Google searches. You can also access important data on many subjects, such as backlinks and site traffic.
In short, you can see whether your site is performing well, which helps make much more successful SEO improvements.
Apart from that, it is possible to detect errors on your site with Google Search Console. Thus, you can touch and correct technical issues in an integrated manner with Google Analytics, Google Trends, and Google Ads.
Acceptable Formats for Google Search Console
Keep in mind that not all links are suitable for you to submit to the Google Search Console as a sitemap. The only acceptable formats are:
XML
RSS, mRSS, and Atom 1.0
Text file
For more details, refer to our article on how to submit your website to search engines.
Reason for the Error
The reason you get the "your sitemap appears to be an HTML page" error is derived from these formats. Your sitemap should be in XML format since Google doesn't accept it in HTML format. Take, for example:
https://wpblogx.com/sitemap_index.xml
If you upload an HTML file as a sitemap, this error will occur.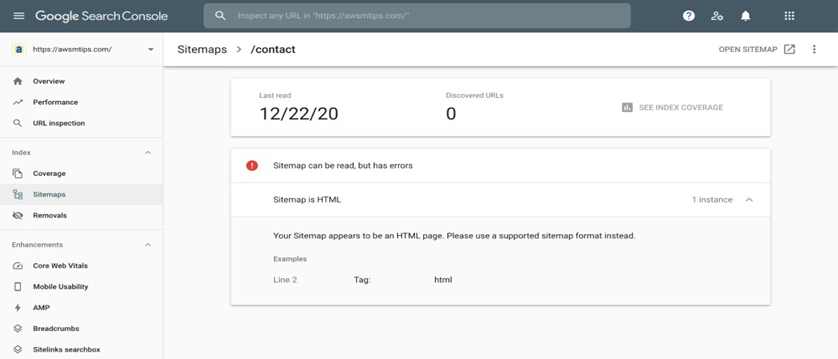 Let's glance through the differences between HTML and XML before discovering the solution and suggestions for dealing with the error.
Differences between HTML and XML
XML (Extensible Markup Language)
XML refers to a markup language that is similar to HTML in many ways. The most distinguishing feature is that XML is more concerned with the data itself. It can be useful for situations such as receiving, transporting, and transmitting data.
The tags used in XML are not predefined as in HTML. That is, the structure of the XML file is completely created by the user.
For your reference, we've published a detailed guide on how to create a XML sitemap in WordPress. Check it out.
HTML (HyperText Markup Language)
HTML, on the other hand, is more about how data presents as an image. It undertakes the task of designing the interface that the users will see on the page. It could be the color of the data, the determination of the fonts, and the font size. In addition, it allows multi-media tools to function (video, pictures, etc.).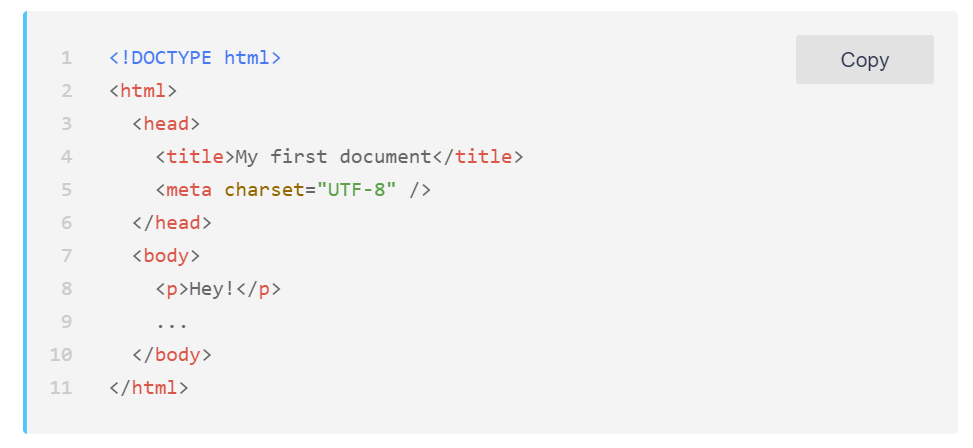 Let's have a look at the summary below for a better understanding.
Key differences:
HTML is one of the document types, used for formatting titles, different fonts, lists, figures, and images in documents. XML defines, describe, and send data between different environments. In other words, it is a complement to HTML with its data-defining features.
XML is a markup language like HTML; however, it describes data, not to display data like HTML. It enables data exchange between organizations.
HTML allows a word to be bold or italic by putting it between tags, whereas XML provides a skeleton for tagging structured data.
Differences in terms of use:
When working in XML, tags are case-sensitive.
Tags created in XML should be closed in neat order, not randomly.
In XML, space characters are defined in comment lines.
Solution for the Error
To build a Google Search Console compliant XML site for your WordPress website, you can use a sitemap plugin. We highly recommend installing Yoast SEO or Rank Math. These plugins automatically create a sitemap, and you just need to add the sitemap to Google Search Console.
The sitemap URLs must be excluded from the Swift Performance plugin. You can follow the procedures below to prevent the sitemap URLs from being cached. Apply the same method with W3Total Cache, WPRocket, and other caching plugins. The steps may vary depending on the tool.
Once you upload the file /sitemap_index.xml to Google Search Console, you may see the error in the image below.
If you click on the error, the detailed description will show up.
Open the website admin panel, then go to Tools > Swift Performance and click on the Settings tab.
2. Paste your sitemap link into the field as follows: /sitemap_index.xml. Then click on the Save Changes button. As a result, this helps you exclude the sitemap URL from the caching.
3. Click on Reset Warmup Table to confirm the changes made in the table.
4. Select the Dashboard > Clear All Caches button.
5. After clearing all the caches, it's time to try to resubmit your website sitemap. Go to the Google Search Console > Sitemap. Upload your sitemap and submit it.
Now, you've successfully update your sitemap!
While it is easy to eliminate the error with a little extra information, we'd love to give you some suggestions for avoiding it.
Suggestions for Using a Sitemap Correctly
Check for Errors
First things first, check your sitemap page for any weird error codes. If the code is clear, it will be very easy to diagnose the problem.
Plugin conflict is usually the main cause of the issue. Plugins like Yoast that generate sitemaps can be the root of conflicts. A caching plugin can also be a culprit causing the problem.
Sometimes, even a random add-on can lead to errors. You can install the Health Check and Troubleshoot plugin to identify them if any.
Disable Caching
When a sitemap is cached, it can occasionally cause problems with Google reading it as an HTML page, as you shouldn't be caching XML files that way.
Check Your Sitemap URL
Although it seems like a simple suggestion, it's always worth double-checking your sitemap URL. Check the link posted both through Google and any sitemap plugins to make sure you submit the correct URL.
Remove Extra Sitemaps
Having extra sitemaps active can cause problems or confusion for you. The plugins you use from time to time can generate different sitemaps. Check them out and make sure you disable any redundant sitemap functionalities.
Don't Let the "Your Sitemap Appears to Be an HTML Page" Error Bother You Anymore!
The "your sitemap appears to be an HTML page" error is an annoyance whenever it pops up. It's basically the result of a malformed page or an able-to-fix caching conflict. You can solve the problem with a few steps mentioned in this article.
You've learnt how to fix the problem, it's time to optimize your sitemap to boost SEO.
Are you suffering similar problems? We are here to help. Please contact us or leave some words in the comment section.
Or you may be interested in 5 ways to remove pages from sitemap in WordPress.