"Password Protect WordPress" helps you to automatically protect all posts under a category as well as sub-pages under a parent's.
Requirements:
Password Protect Sub-pages
Step 1: Navigate to Password Protect WordPress >> General tab from your admin dashboard and enable "Password Protect Child Pages" option.
Step 2: Go back to Pages and protect a parent page. All its sub-pages will be protected automatically.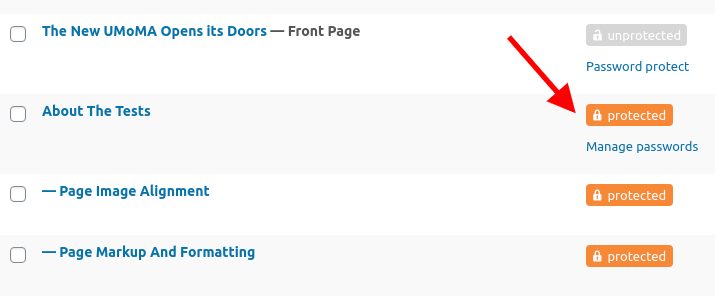 Open a child page and enter its parent page's password to see how this function works.
When a page is password protected, all its sub-pages are auto-protected by default:

The sub-pages the same password with the parent page
The password usage of sub-pages are added to the total usage of the parent page

Once entering the right password for the protected page, users will be able to access other protected child and parent pages without having to enter the password again.
If a child page was protected before turning the option OFF, it is continuously protected with the created password. In other words, the protection status still remains until you enable this setting option again.
Password Protect Categories
Locate the "Categories" page and simply click on "Protect Category" under which ones you want to protect.

All posts under a protected category will be automatically password protected, exclusive of posts belonging to its sub-categories.

Protecting parent categories doesn't mean all posts under its sub-categories will be protected. This is due to the default WordPress setup where a post can belong to a sub-category but not its parent category.

Category protection feature provided by our Pro literally protect individual existing posts under that category by creating a new password for each post

That means when a new post under that category is published, the category becomes unprotected and that you have to click "protect category" again.
To auto-protect new posts and use the same password for all post under the same category, please use the category protection feature provided by our Access Levels extension instead.
With Password Protect WordPress plugin, it has never been easier to password protect your pages and posts even if you are new to WordPress.