Bots are becoming the main problem that every website owner has to run into sooner or later. Bad people who use bots to try leaked passwords, post spam, and scrap your content usually don't target specific websites and website types only. According to W3Tech, WordPress now powers more than one-third websites on the internet, which makes it a primary target for hackers and spammers.
If you are running a WordPress site, the good news is you can easily distinguish these toxic bots by installing a captcha plugin. As a web developer, you should have a basic understanding of the captcha first and the reasons why they are used commonly.
The captcha plugin proves one of the most effective tools to add an extra level of security to your site and keep it safe from unwanted users, spam, and bots.
Though there are countless captcha plugins in the WordPress repository, we have listed the collection of 11 best plugins that you definitely look for to prevent your site from the bots-causing threats with ease.
Best WordPress Captcha Plugins Comparison Chart (2019)
Before digging deeper into each plugin, make sure you take a general look at the top 11 WordPress captcha plugins table below.
| | | | | | |
| --- | --- | --- | --- | --- | --- |
| WordPress Captcha Plugins | Active Installs | Rating | WordPress Version | Contact Form 7 Compatible | Visible to Users |
| Really Simple Captcha | 800,000+ | 4.3 | 4.7 | Yes | Yes |
| Google Captcha (reCAPTCHA) | 200,000+ | 4.1 | 3.9 | Yes (pro version) | Yes |
| Invisible reCaptcha | 90,000+ | 4.5 | 4.0 | Yes | No |
| Advanced noCaptcha reCaptcha | 80,000+ | 4.8 | 4.4 | Yes | Optional |
| Math Captcha | 40,000+ | 4.1 | 4.0 | Yes | Yes |
| Captcha Code | 40,000+ | 4.1 | 3.0 | No | Yes |
| WPBruiser (No Captcha Anti-Spam) | 20,000+ | 4.8 | 4.0 | Yes | No |
| Captcha Bank | 10,000+ | 4.5 | 3.0 | Yes | Yes |
| No CAPTCHA reCAPTCHA | 10,000+ | 4.4 | 4.0 | Yes | Yes |
| Conditional Captcha | 6,000+ | 4.6 | 4.0 | No | Yes |
| Captcha Booster | 5,000+ | 4.8 | 3.6 | Yes | Yes |
Best WordPress CAPTCHA and reCAPTCHA plugins
#1. Really Simple Captcha
This is one of the most widespread and powerful captcha plugins used for the WordPress site, coming in at solid 800,000 users. Its function looks simple as its name stands but actually very useful.
Unlike other captcha plugins that use PHP sessions for storing states, Really Simple Captcha runs temporary files instead, which makes it easily embedded in WordPress without any conflicts. When you generate a captcha, there are two files, one for storing the image file and the other is a text file containing the right answer. If the respondent types the answer that matches the one in the text file, the plugin will let the form submission pass through.
Really Simple Captcha can work with other plugins, especially Contact Form 7. You can add it to the login and contact form.
Pros:
This plugin uses temporary files to store states.

It is simple, easy to use and doesn't take up a lot of space.
Cons:
Really Simple Captcha is not a robustly secure captcha plugin.
This plugin is just suitable to integrate the basic captcha plugin.
#2. Google Captcha (reCAPTCHA)
Google Captcha comes with a free and premium version that helps users protect their WordPress site from spam.
To use Google Captcha (reCAPTCHA), you need to enroll your website with Google first, then get the Site Key and Secret Key. Users have to check the box beside the quote "I am not a robot" to confirm their human identities before the form is submitted.
You can add this captcha to log in, registration, password recovery, comments, popular contact forms, and others. With the pro version, this plugin can be compatible with Contact Form 7, WooCommerce, Divi, BuddyPress, etc.
Pros:
This plugin uses the all-new Google reCAPTCHA innovation to keep bots from engaging in abusive activities on your WordPress site.
It also provides a wide range of themes for different versions along with an easy-to-use interface.
Cons:
The plugin only involves reCaptcha elements. In case you prefer another captcha, you have to find it elsewhere.
#3. Invisible reCaptcha
Since this plugin integrates with the new invisible reCaptcha by Google, it becomes extremely powerful and popular worldwide.
It can be used in registration, comment, and forgot password forms. Invisible reCaptcha can work with Contact Form 7, Gravity Forms, Ultra Community, and BuddyPress too.
Pros:
 Invisible reCaptcha plugin doesn't interrupt the user's experience like other plugins.
Cons:
Invisible reCaptcha can't run without JavaScript-enabled browsers.
#4. Advanced noCaptcha reCaptcha
This is quite the same as the previous plugin. You can decide which version of reCaptcha will be used including v2 I'm not robot checkbox, v2 invisible or v3. In addition, you are allowed to add multiple captchas on the same page. This plugin also enables you to add conditional login captcha option after various login attempts.
The Advanced noCaptcha reCaptcha plugin can implement with other plugins easily, like WooCommerce, Contact Form 7, FEP Contact Form, etc. You can show it in the comment, log in, register, lost password, or reset password forms.
Pros:
Web owners can customize the captcha language, theme, and size.
A simple and friendly interface makes this plugin easy to activate within minutes.
Cons:
Like Google Captcha (reCAPTCHA) plugin, all code involves Recaptcha. If you want to work on a custom project, maybe some of the other captcha plugins in this list will be more up your alley.
#5. Math Captcha
When it comes to another type of captcha, Math Captcha is another effective WordPress plugin that asks visitors to solve simple math problems to get access to your website. You can apply captcha into login, registration, lost password, comments, and bbPress forms.
Besides that, there are other outstanding features including hiding captcha for logged in users, selecting which mathematical operation to use, choosing to display captcha as numbers or words, setting captcha field title and inputting time.
Pros:
This plugin seems simple but it has a lot of effective features to strongly protect your site from spam.
It doesn't take much time for users to complete a simple math computation, so the plugin improves their browsing experiences.
Its simple interface enables users to easily set up as well.
Cons:
The last update of Math Captcha was 12 months ago. It may raise the risk of increasing security vulnerabilities, in which hackers will exploit to break into the site and having compatibility issues when it is used with more recent versions of WordPress.
#6. Captcha Code
Captcha Code is another impressive plugin to add captcha to your WordPress site. When users want to post comments or to register, they have to type the code shown in the image.
This plugin is ideal for comments forms, registration forms, lost password forms, and login forms. The administrator has various options to make full use of it and increase security.
Admin can determine where the captcha is displayed and select the types of letters from these alternatives: Captcha letters, Small letters or both to be displayed. Alphanumeric, Alphabets, or numbers are the available setups of captcha. On top of that, the Captcha Code enables admin to translate into different languages.
Pros:
It offers excellent customer support and remarkable features as a free plugin.
Cons:
Its compatibility with other plugins is not quite good. Captcha Code doesn't play well with others due to their conflicts in code or functionalities.
#7. WPBruiser (No Captcha Anti-Spam)
While other WordPress plugins display irritating captcha forms, WPBruiser based on algorithms is completely invisible to humans. Normally, spam comments and signups will be moved to your spam folder after detected, then you have to waste time deleting it.
But WPBruiser doesn't work that way. It prevents the bots from leaving spam at the beginning, leading to an increase of security and speed of WordPress website.
WPBruiser is incredibly efficient to eliminate spam-bots on login, comments, register pages as well as password reset pages and even Brute Force attacks. It can be integrated with the most popular plugins such as Contact Form 7, Formidable Forms, WooCommerce, MailPoet, etc. For each comment field, you can set a maximum number of characters.
Pros:
Advanced security, invisibility, and simple configuration are three main elements that help WPBruiser outweigh other plugins. It always works behind the scene to ensure that your WordPress site is spam free and well-secured.
Cons:
The free version of WPBruiser limits itself to plugin integrations.
#8. Captcha Bank
If protecting your WordPress site from spambots is your top priority, then you should take Captcha Bank into serious consideration. This plugin is a powerful captcha validator, allowing you to set an additional security layer on top of your in-built protection. Not only does the plugin protect your site from spam but it also keeps spammers and bots away from entering unnecessary data in your website form.
This plugin provides 2 types of captcha including simple math operation (arithmetic, relational or arrange order) and text captcha. You can make it more difficult by adding settings such as distortion, noise.
Another remarkable feature is that it can fight brute-forcing attack by limiting the number of attempts an individual user uses to login. Captcha Bank also filters for users who have to solve a captcha problem and those who don't or hide captcha for registered users.
You can show captcha on various forms: comment form, login and registered form, admin comment form and reset password form. Also, Captcha Bank gives support to WooCommerce, BuddyPress and Contact Form 7.
Pros:
This captcha plugin comes with so many options to strengthen your site security, so you'll get advanced protection against spammers.
You can easily install, set up the plugin and receive its update automatically.
Cons:
Captcha Back sometimes creates a huge slowdown of the entire website, not only the admin area but also the site in general.
#9. No CAPTCHA reCAPTCHA
This is most likely the simplest captcha plugin that you can add the new No Captcha ReCaptcha by Google to WordPress login, registration, and comment system. This plugin offers theme options and auto detects user-language.
On top of that, you can activate the plugin at various pages and themes. Besides ProfilePress and MailOptin, No CAPTCHA reCAPTCHA supports WooCommerce which protects many of your forms against spam, bugs, and unauthorized access.
Pros:
Its interface is simple, helping admins optimize this plugin with ease.
No CAPTCHA reCAPTCHA is compatible with most popular web browsers such as Mozilla Firefox and Safari.
Cons:
The plugin hasn't been integrated into password form yet.
#10. Conditional Captcha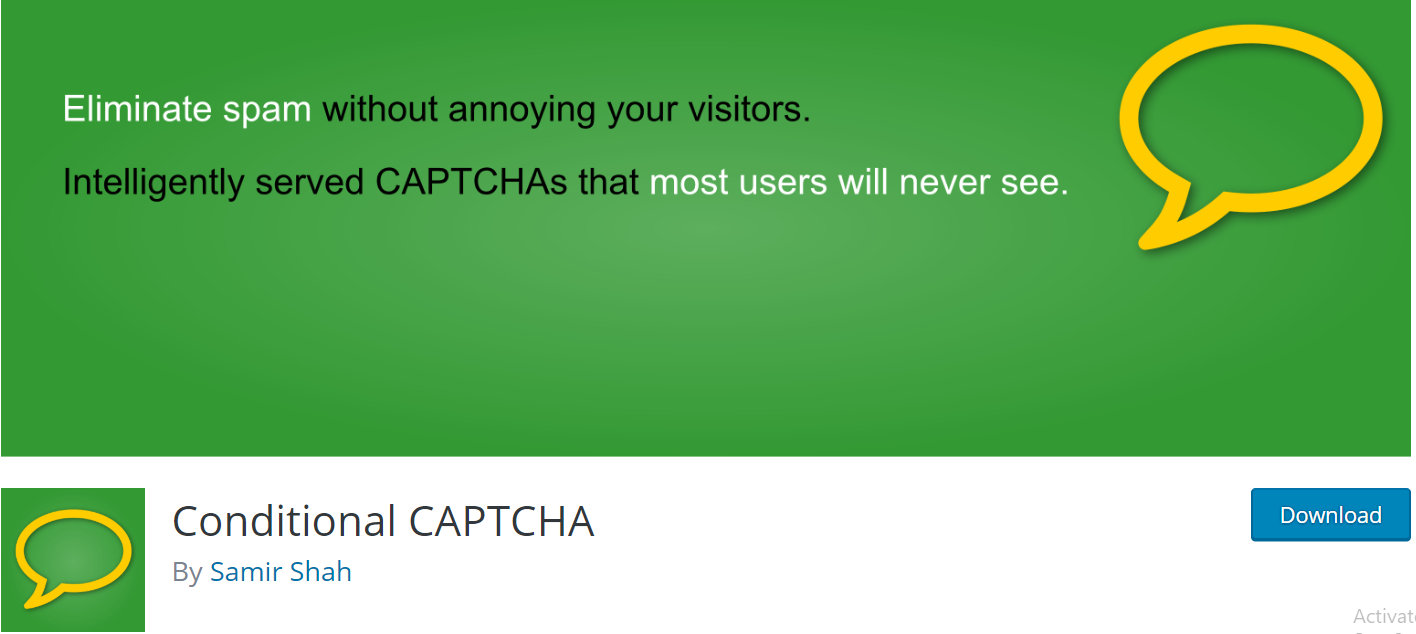 Conditional Captcha proves more advanced compared to other plugins. With a different approach, this captcha plugin only requires users to verify identity if certain conditions are met.
There are 2 main levels: basic and Akismet-enhanced. On the basic level, a captcha form only appears when a commenter hasn't logged in or had any previously approved comment yet.
On the other hand, with Akismet-enhanced mode, only if Akismet determines a comment as spam, the plugin shows a Captcha form. You can display a simple text-based test, by default or use ReCaptcha to make it more tricky. One special thing about this plugin is that a captcha only goes to appear after a comment is submitted.
Pros:
Since the logged in users won't see the captcha form, they feel comfortable and are more likely to enjoy browsing experiences in your WordPress website.

Conditional Captcha

is an intelligent and sensitive plugin that doesn't rely on the ReCaptcha technology.
Cons:
Conditional captcha will not work with plugins or themes that generate and process their own comment forms such as Contact Form 7, WP AJAX Edit Comments, etc.
#11. Captcha Booster
The last WordPress plugin in the top 11 reliable ones is Captcha Booster. It provides easy-to-solve math logic and text images test to ensure the security of your WordPress site and protect it from spam, bots, unauthorized users.
You can add text or logical captcha in Login, Registration, Comments, Admin Comments, Reset/Lost Password page as well as the captcha for WooCommerce, Contact Form 7, BuddyPress, bbPress, Jetpack, wpForo form. You can also customize both "Text Captcha" and "Logical Captcha" with several advanced settings, for example changing Width, Background, and Styles, etc.
Blocking users by country, IP addresses and IP ranges is useful when it comes to manual spam protection and protection enhancement.
Pros:
Captcha Booster standard version is beyond enough to eliminate WordPress spam, bots, and Brute Force attack. It takes you some simple steps to install the plugin and configure Captcha Security.
Cons:
Showing Text and Logical captcha increases the risk of killing your conversion rate because these types cause confusion and annoyance.
Let's Choose the Best Captcha Plugin for Your WordPress Site
Blocking spam and bots from your site is of crucial importance, not only for your site but also for the clients. Spam costs the American firms and consumers almost $20 billion each year, so everyone should be aware of the spammers flooding the internet and find effective ways to prevent this urgent problem.
It goes without saying that taking your site security seriously should be a top priority. Mentioned above are the 11 most reliable and powerful WordPress plugins. Each plugin that has different support, functions, advantages, and disadvantages might meet your requirements in some areas to fight against the bots.
Although Google's reCaptcha is widely used to provide a great protection from bots, you may have more concerns about other more unique choices in this list.
Let us know if you've experienced an efficient Captcha plugin in the comment section below!